I know you're all on the edge of your seats, wondering if I actually remembered my gym bag today – rest assured, it's in my possession! Celebration Fitness…here I come!
Since we're still in the first-ish week of January, and we're all still talking about resolutions, goals, #newyearnewyou stuff, I thought it would be a good time to discuss Dry January. For most, the holidays are definitely a time of overindulgence. For some of us that means one too many cookies, for others it could mean enjoying more adult beverages than normal. I think my someecard sums it up pretty well: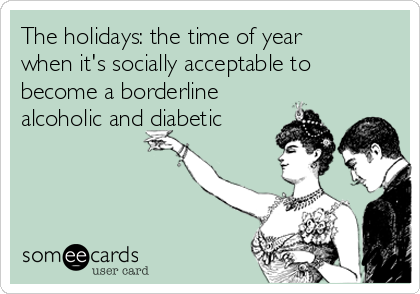 Dry January is a campaign started by Alcohol Concern, an organization in the UK. The goal of Dry January, as you might have guessed, is to give up alcohol for a month. According to their website, the month of January is the best time to do it because everyone is already attempting to reinstate healthy habits. Giving up alcohol means more money in your pocket, increased energy, the absence of hangovers, improved skin and better overall health. Great benefits, if you ask me.
A group of scientists wondered if there were any actual health benefits to giving up alcohol for a month so they did a little experiment to see what would happen. What they found was abstinence from alcohol lead to a drop in liver fat by 15%. This is significant because the amount of fat around your liver is a precursor to liver damage. They also found that blood glucose levels fell by an average of 16%, an important factor in determining diabetes risk….